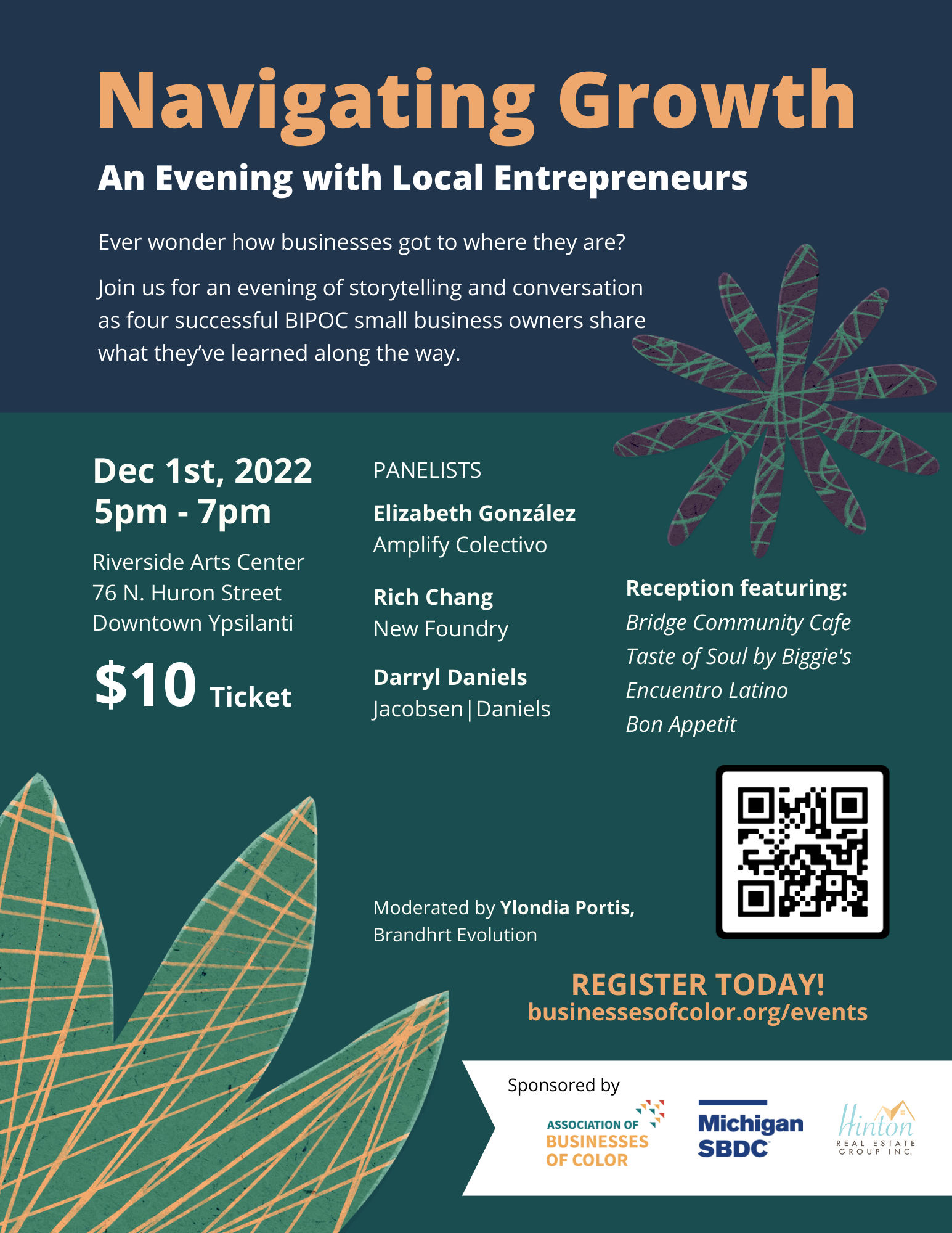 Navigating Growth:
An Evening of Storytelling and Conversation with Successful Entrepreneurs
DISCUSSION PANEL AND RECEPTION
DEC 1, 2022, 5 PM-7 PM
Riverside Art Center Theatre 76 North Huron Street, Ypsilanti, MI 48197

You are invited to an evening of storytelling and conversation with four successful BIPOC small business owners who will share stories about their journey to success and what they learned along the way. 
The Association of Business of Color is excited to announce our first Discussion Panel, scheduled for December 1st at 5 pm. We will be speaking with Richard Chang of New Foundry,  Darryl Daniels of Jacobsen|Daniels, and Elizabeth González of Amplify Colectivo.   
After the panel, mingle together at a reception with amazing food from local venues in the area: Bridge Café, Encuentro Latino, Taste of Soul by Biggies, and Bon Appetit Cuisine.
This is a celebration of community, sharing knowledge, and the journey to achievement.  It's also a fundraiser for ABC, as your ticket will support the Association of Businesses of Color in uniting and amplifying the voice of BIPOC businesses in Washtenaw County
Tickets are $10.

Register here: https://tinyurl.com/mw64nms2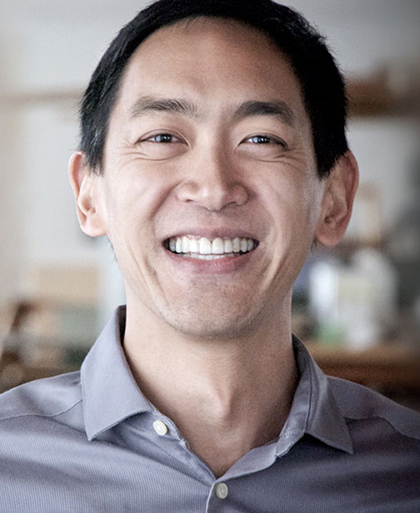 Rich Chang
New Foundry
Rich is an experienced consultant, start-up founder and CEO, business development professional, mentor, and coach. His career centers building valuable solutions to problems that typically nobody else is solving particularly well. Rich is the CEO and founder of New Foundry, which builds innovative tools for the automotive, consumer, education, finance, insurance, legal, manufacturing, medical, retail, security, sports, transportation, and travel industries. Rich is active community member, and serves on nonprofit boards throughout the county, including United Way, Ann Arbor Area Transportation Authority, Washtenaw Community College Foundation and many more. 
Elizabeth González (she/they/ella)
Amplify Colectivo
Elizabeth Gonzalez MSW (she/they) is the founder and director of Amplify Colectivo, a collective of therapists of color that provides culturally sensitive mental health services, supervision to up and coming therapists of color, and consultation services to state and local organizations. Additionally, Elizabeth is the Interim Associate director at University of Michigan's Spectrum Center where she facilities LGBTQIA+ allyhood development trainings and consults with campus partners about inclusive practices. Elizabeth is an adjunct professor in the Masters of Social Work program and teaches courses on "Engaging Social Justice, Diversity, and Oppression in Social Work" and "Community Action and Social Change." When she's not driving for social change in the mental health sphere, Elizabeth is an avid tennis player and baked goods enthusiast.
Darryl Daniels
Jacobsen | Daniels
Mr. Daniels is CEO and Managing Partner of J|D and has nearly 30 years of design, planning, project management, customer service, and principle-in-charge experience at airports. Over his career, he has provided these services for local, state and federal agencies, as well as for private sector clients. He specializes in supporting clients in the transportation industry with a focus on improving the journey from home to the final destination. Mr. Daniels has distinguished himself in the aviation sector, where his clients look to his expertise to solve complex challenges through innovative problem-solving. He has served on a number of boards and committees dedicated to fostering the advancement of small, minority, and women-owned businesses.
Mr. Daniels holds a Bachelor of Architecture from the University of Notre Dame and a Master of Urban and Regional Planning from the University of New Orleans.